Uncategorized
Join us for our first VIRTUAL Personal Training Prep Course! This American Council on Exercise (ACE) Personal Trainer Preparation Course prepares individuals to complete the ACE Personal Trainer Certification Exam. On completion of the course, you will feel better equipped to motivate, empower, challenge, and retain clients for the long term. Exam fees and study […]
Updated May 4, 2022 Mason Recreation previously announced a period of construction at the AFC set to begin in March 2023 that would close the facility through the summer. Some of the construction projects to be accomplished during this period include retiling the competition pool, installing new skylights, and replacing the pool bulkheads. We have […]
Happy Fall Patriots! The Thanksgiving Break is coming soon – so please take a look at our Holiday Facility Hours below. Plan your  visits accordingly, and if  you have any questions, please contact us at MasonRec@gmu.edu. Aquatic and Fitness Center  (AFC) Wednesday, November 24: 6 am – 7 pm Thursday, November 25 : CLOSED Friday, […]
Yassmin Salem, Murals at Mason Lead Organizer, shares how she finds a way to enhance her well-being. Click the page below to learn how writing, meditation, and more could be beneficial to your well-being. If you want to post your own story or if you would like to read any other stories, click here.
The one-stop-shop for your latest Mason Rec news and updates!
Every two weeks we will choose a different ingredient to feature: from fruits to protein, grains to spices and more, we will give you a list of recipes, fun facts and an informational video about that ingredient. Brought to you in partnership with our colleagues in Mason Dining, we will give you a quick overview […]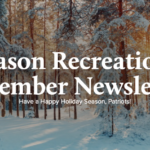 Bundle up! Our December Newsletter makes the perfect read for a chilly December night.