AFC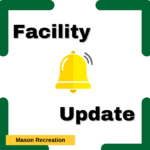 Dear Students and Members, Construction on the AFC Sauna is going very well and we are currently installing new wood and benches. We plan to re-open the sauna for use on Monday, July 25th. Stay tuned for further communication. Questions? Email us at MasonRec@gmu.edu.
Mason Rec has 2 squash courts on the second level of the RAC, come play this summer! Don't have equipment? No problem. Check some out at the front desk! Squash Fun Facts: ·       Voted the healthiest sport to play by Forbes magazine based on cardiorespiratory endurance, muscular strength, flexibility, muscular endurance, calories burned, and risk […]
Mason Recreation is looking for our next Executive Director of Recreation to lead our wonderful recreation team! Visit this website to learn about the position. You can also view our HR website at jobs.gmu.edu and search by title or position number FA95BZ. Please apply by Sunday, June 26th for full consideration.
Classes run May 23- July 30! All classes will run with our Group Fitness Safety Protocol in place. Participants must clean their equipment after use and must reserve their spot in class HERE. POLICIES You must have a current Mason Recreation membership to be eligible to take part in our "In Person" group fitness classes. […]
The Mason Rec summer student membership period begins May 16! Here's what you need to know: Active Students – If you are a student taking any summer credits, you have an active membership. Inactive students – Those that were enrolled in classes Spring '22 (that have not graduated and are not taking summer classes) can […]
Join us for our first VIRTUAL Personal Training Prep Course! This American Council on Exercise (ACE) Personal Trainer Preparation Course prepares individuals to complete the ACE Personal Trainer Certification Exam. On completion of the course, you will feel better equipped to motivate, empower, challenge, and retain clients for the long term. Exam fees and study […]
UPCOMING COURSES: Wilderness First Aid & Wilderness First Responder REGISTER HERE Wilderness First Aid: May 14 – 15 Learn how to be prepared for your time in the outdoors and get some practice in critical thinking for emergencies that may come up on your adventures. In this 2 day course, you will learn an introduction […]