Mason's Cutest Pet 2020
Update: We have reached the submission limit for this contest – follow @gmuintramurals on Instagram to cast your votes and help select Mason's Cutest Pet!
Submit a cute photo of your pet and see if they have what it takes to be named "Mason's Cutest Pet of 2020." Winner will receive $25 Amazon gift card. Participation is open to current George Mason University students, faculty, staff, and alumni. Entries are limited to 1 per person. The first round of voting will being on Monday, May 18 on @gmuintramurals.
Entries must be received by 5pm on Thursday, May 14 via the link below:
Club Sports Physicals
Mason Student Health Services is offering sports physicals for club sport participants on September 6 & 14.  The cost is $60 and must be paid at your appointment. Exams should take approximately 20 minutes. Mason Recreation requires all club sport participants to have an annual physical on file with the Club Sports Office. Physicals are valid for 365 days.
Download the the Mason Recreation Physical Form and complete the health medical history questionnaire.
Arrive 30 minutes prior to your appointment
Bring your physical form and insurance information to Student Health located in Sub 1, Suite 2300

If you cannot make an appointment on September 6 or 14, you may schedule individually by calling (703) 993-2831.

Following your physical, please bring your completed forms to the Club Sports Office located in the RAC. Completed forms may be left in the Club Sports mailbox outside of normal business hours.
March Madness Bracket Challenge
Who Will Be This Year's Cinderella?
1st Place Prize: Beats Pill+   *sponsored by Patriot Tech.
Register Online:  February 27 – March 16 @11AM
How to Register:
Submit the registration form on IMLeagues via the link below.

You will receive an email confirmation with instructions on how to submit your bracket on Selection Sunday (March 12)
Last day to submit your bracket is Thursday, March 16 @11AM.

Brackets will be submitted online using CBS Sports
Email will be generated from CBS Sports
**Mason NCAA athletes are not eligible to collect prizes from the event.
National Tournament Experience – M/W Club Soccer
Having the opportunity this season to travel almost a thousand miles to Foley, Alabama with not only one, but both of George Mason's club soccer teams was an experience incomparable to any other. Not only were we able to show the rest of the country what George Mason is all about, we were able to prove to ourselves that we can compete at the highest level of competition, the National tournament. Arriving in Foley, our hope was to show up and play the way we had practiced all season and hopefully come out of it with satisfying results, and personally, I believe we did just that. While we may not have won every game, our victory over the University of Missouri sent a resounding pride through our whole team. Being a part of something that exciting and that special sent our team back to Mason with a greater appreciation for ourselves, our team, and our sport. The support our team gave to the men's team, and the wave of support we received back from them allowed our teams to form an incredible dynamic between us. Going to Nationals was an experience that we do not take for granted, and we hope to return next year, and many years to come, and continue to spread our pride for George Mason!
By: Erin Kimmelman
Going to Alabama to compete in Nationals was a great experience. Being away from school for a couple of days playing the game I love was a brand new experience for me and many of the members on the team. It was a tremendous honor to be able to compete in this tournament against some of the other top club teams in the country, and we really enjoyed being a part of it and representing the name of Mason. One of the best parts was the growth and comradery that grew between our team and the women's team. Although we would have loved to go further in the tournament, we could not have asked for a better experience both on and off the field. Alabama had some nice weather, so we were able to go to the beach and enjoy it! The goal for next year will definitely be to make it back to tournament, and I hope we do make it next year since it will be my last year playing for the club.
BY: Robert Suarez
De-Stress With Furry Friends – Tuesday, December 6
Attention all animal lovers! What better way to de-stress before finals than the giving and receiving of love from our fury friends Sam (sweet yellow lab) and Bruno (a cute spaniel mix). These wonderful animals will join the Mason Recreation family on Tuesday, December 6 from 3-6pm in the RAC lobby.
Who: Caring Angels Dog Therapy
Where: RAC lobby
When: Tuesday, December 6, 3pm – 6pm
Why: Because finals get stressful and what better way to bring some relaxation to your day than a workout and getting to pet dogs.
USSF – Grade 8 Soccer Referee Course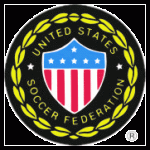 Do you love soccer? Looking for a great part time job? Register for the Unites States Soccer Federation (USSF) New Referee – Grade 8 course. Mason Recreation will be hosting the grade 8 course in the RAC on September 16 & 17. The cost is $70. This is a great opportunity to get started as a soccer official. Seats are limited and the class will fill quickly. The class does require online modules to be completed prior to attending the classroom portion of the clinic.
Click Here to Register
Dates/Times:
September 16: 6PM – 9PM
September 17: 10AM – 3PM
Fantasy Football Registration Now Open
Attention fantasy football fanatics! Mason Recreation is sponsoring a few fantasy football leagues on cbssports.com and invite you to compete for the All-Campus Championship. Space is limited. If you are interested in setting up a league for your floor, residence hall, or organization please contact Paul Bazzano. Please use your George Mason University email address to register and make it available for the league commissioner to view. Anyone using a non-gmu address will be removed from the league.
Available Draft Dates:
Thursday, September 1
Tuesday, September 6
Mason Rec – AFC South
Mason Rec – NFC East
Wednesday, September 7
Mason Rec – AFC West
Mason Rec – NFC South
League Password: Mason2016